Early last year, I bought this vintage Craftsman (manufactured by Kennedy) machinist toolchest for $6, but it was in terrible shape. Scratched, dented, rusty, and lined with moldy felt, the former owner had all but given up on it. Despite its flaws, it was solid, mostly intact, and had lots of potential, so I bought it. After donning a respirator, goggles, and gloves, I dismantled the box and began scraping the felt, oil-saturated and moldy, with a razor blade, vacuuming it up with a shop-vac as I went. I sanded any remaining residue with low grit sandpaper.
I removed all of the hardware (logo, drawer pulls, handles, drawer slides, etc.), took stock, and set them aside. A few of the drawer pulls, which are difficult to purchase and expensive where available, were missing, and several of the remaining ones were badly damaged. Instead of finding or making exact replacements, I searched through my wood scraps bin and made wooden drawer pulls, which I carved from a piece of red oak.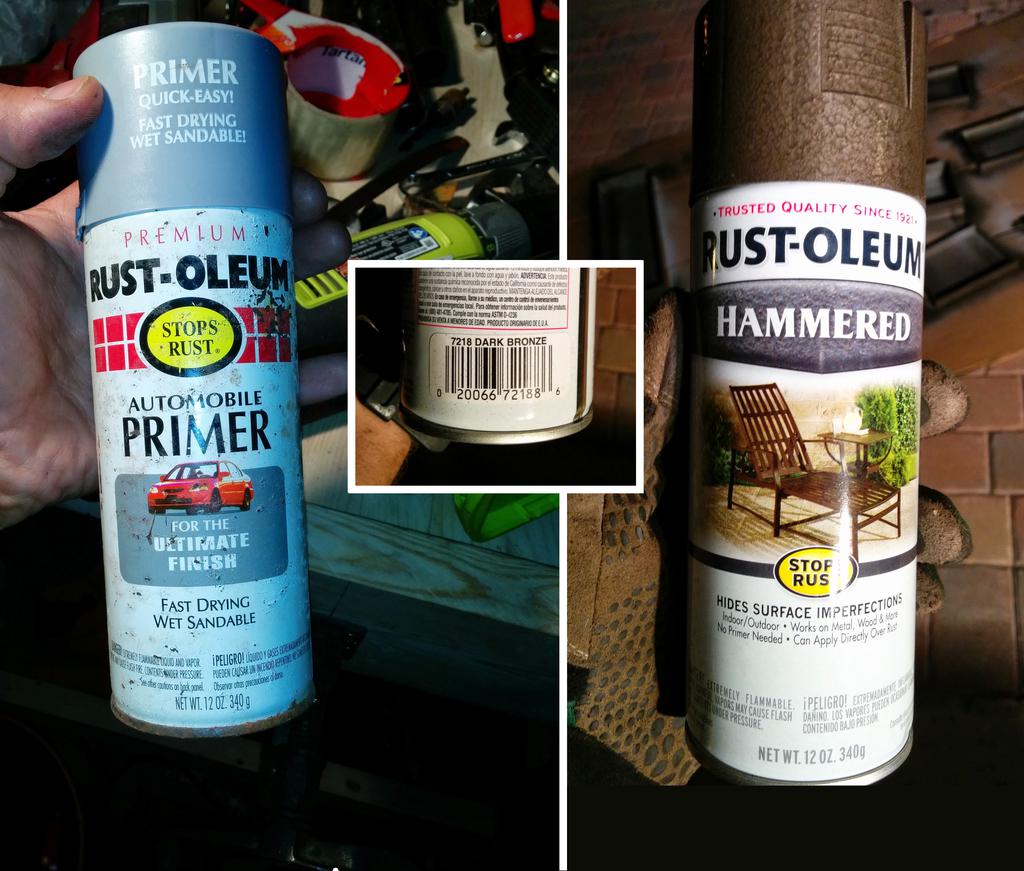 Before going any further, I was sure to take some decent pictures of the original stickers placed on the box by the former owner. While I didn't plan on trying to save them, I did want to keep a record of them in case someone eventually sees this post and wants to recreate them. If that's you, shoot me an email or leave me a comment below, and I'll upload pictures here or send you what I have.
Back to sanding. With all of the hardware removed, I banged-out some of the large dents (without removing too much of the original character), and sanded all surfaces of the box with sanding blocks, working from low grit to high grit. After sanding, I primed the box using Rustoleum Light Gray Automotive Primer (rattle can), sanding again between coats. I finished the box with many light coats of Rustoleum Hammered Dark Bronze spray paint (though marketed as Hammered, that particular effect is only achieved when spraying thick coats; with this paint, I prefer the look of thin coats, which is rather unique).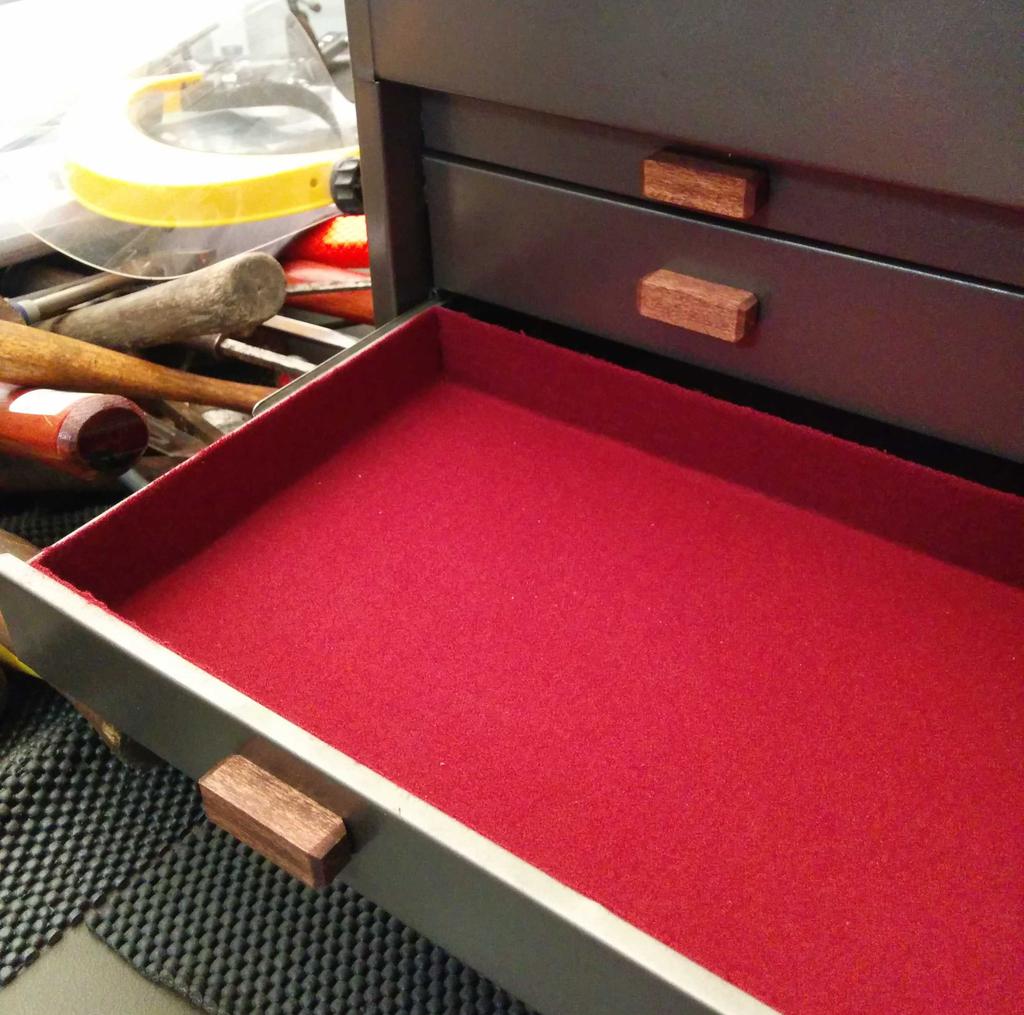 To line the inside of the box, I purchased some red felt from an old billiards table ($5 from a local billiard-restoration business). After running the felt though the washing machine and dryer, I measured all of the drawers and previously-felted areas, and made a pattern, which I cut from the felt. I adhered the felt to the drawers using 3M Super 77 spray adhesive and used a credit-card to pull and smooth it once in place.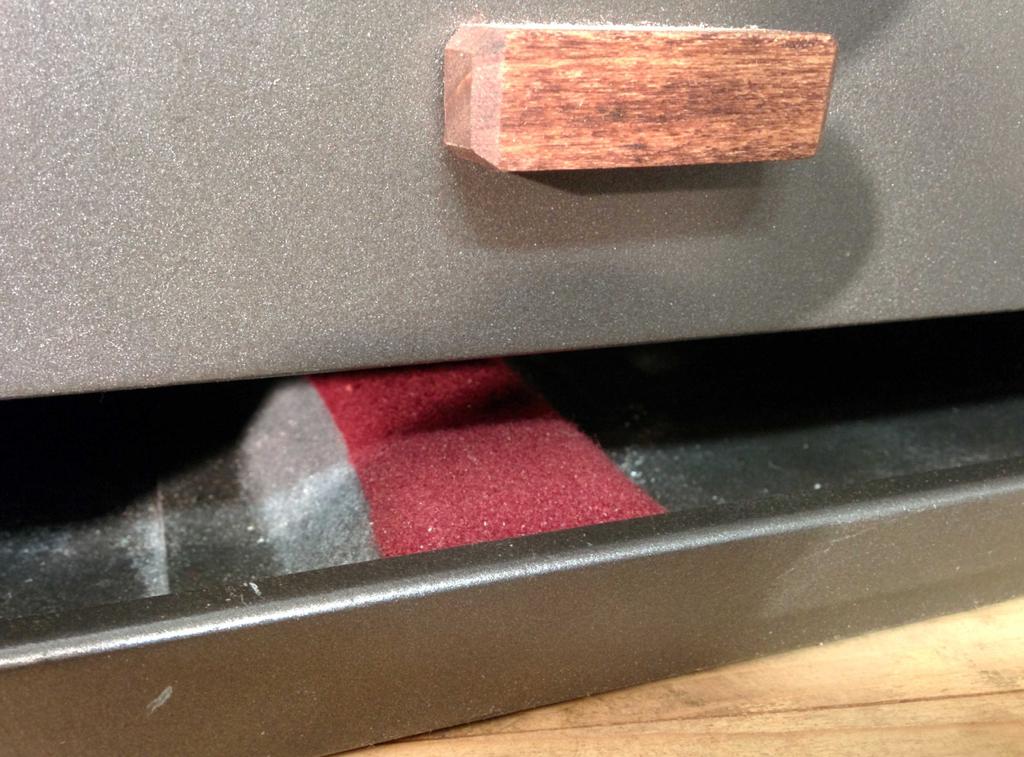 The side-handles, which appear to have been originally nickel-plated, had lost much of their plating, so I cleaned and polished them as they were. After a bit of reassembly, here's how it looks!
---
To leave a comment below, sign in using Github.